The SuperHero Street Fair's mission is to recognize individuals and organizations throughout San Francisco for their outstanding contribution to the arts, environment, and/or community action, and to have a day of music and cultural celebration welcoming all people of San Francisco and beyond. The location of the festival is a vibrant neighborhood full of visual artists, musicians, performers, and community activists who call the Dogpatch, Mission and Bayview neighborhoods home. SuperHeroSF provides a platform to showcase the achievements of these people and enjoy a day of celebration and community, with the creativity, wonder, and playfulness that the "SuperHero" theme brings.
Each of us have childhood memories and adult aspirations of superheroes — there's a universal thread that connects this human ideal. Here is the chance to recognize real-life superheroes and to find and have fun with the ones in your imagination and those created by others. Enjoy San Francisco at its finest: purpose, celebration, costumes, and music. We also work to create a conscious framework to reduce our environmental impact. We had 80%+ waste diversion in each of our previous years and continue to put our efforts towards doing even better.
The SuperHero Festival highlights include art exhibits, vendors, sporting activities including sports demos, climbing walls open to the public, multiple stages with live and electronic music, SuperHero exhibits, and our SuperHeroSF awards ceremony recognizing individuals and organizations for their SuperHero-like contribution to the arts and community. Ceremonies include the Mayoral proclamation of "SuperHero Day" in San Francisco.
A portion of the proceeds from the festival benefit the recipients of the SuperHero awards for their achievements. The organizers and close friends of the SuperHero Street Fair have cleaned up and help maintain the area around the festival, and have done so since the festival began in 2008. This includes landscaping (removing overgrown vegetation, helping plant trees, and laying wood chips), painting over blight, garbage removal, and more. We have lived in the neighborhood for over 15 years and help maintain, and will help keep improving, the festival site.
SuperHero has sound camps from San Francisco, around the Bay Area, and Burning Man. We feature art, incredible staging and lighting, vendors, food, and amazing acts. Join us in celebrating the SuperHero Street Fair along Islais Creek, just south of Cesar Chavez street near the US 101 and I-280 Cesar Chavez exits. You still have plenty of time to get your outfit together for this year. We look forward to seeing you there in a cape, a mask, dressed up as yourself or your alter ego, and a smile. Up, up and away!
It's our mission to provide a space where inspiration, discovery and artistic collaboration can result in adventurous and unexpected works. We believe that by taking risks, artists both experienced and undiscovered can push their craft and illuminate new genres.

We continually strive to deepen the audience experience by making them part of the action and extending the creative process to the community.

Climate is a state-of-the art boutique theatre laboratory in the heart of San Francisco. Termed, "a vital scene and vibrant avenue for some of the most dynamic and promising crossover and experimental work around," by the SF Bay Guardian. This tiny theatre has been responsible for some surprisingly large cultural ripples- including Craigslist, which began as an interactive mailing list for the venue. Home over the past 30 years to a who's who of Bay Area performance, the theatre was the force behind a number of artistic movements, including the now legendary Solo Mio performance festival, Festival Fantochio modern puppetry festival, and the Glass Haus events (which rapidly became the Studio 54 of the dot com era's boom & bust). As theatre critic Rob Avila puts it, "So much sprang from the Climate's operation in the 1980s and '90s that the outfit was soon labeled 'the biggest little theater in San Francisco.'" Founded by impressarios Marsha Crosby & Joegh Bullock in 1985, the helm was taken over in 2007 by Artistic Director Jessica Heidt (Magic Theatre). Since then, it has blossomed as a central hub for cutting-edge festivals, theatre, circus arts, hip-hop performance, clowning, music, and new emergent art forms. Performers include John Gilkey (Cirque Du Soleil), Monique Jenkinson/Fauxnique, and Paul Nathan (Dark Kabaret). Climate is more than ever a space that stands at the center of emerging cultural traditions. In the words of Cirque's Gilkey "This is the place that has open doors for the forward stuff, and that's what excites me."
LAIRD ARCHER
Event Producer / Ping Pong Master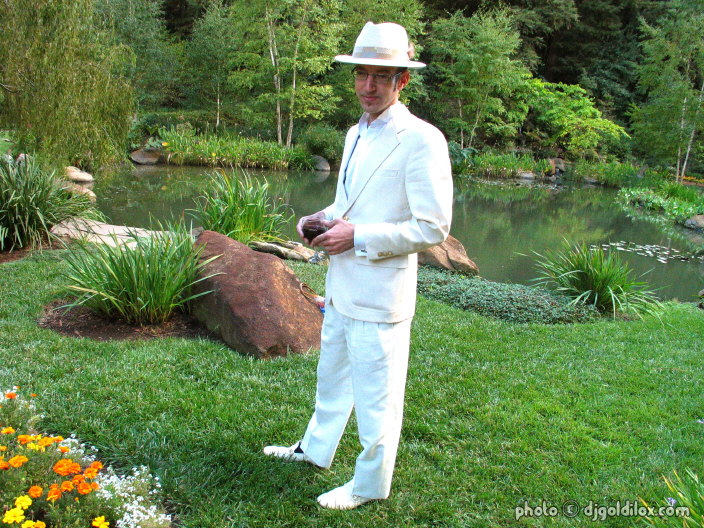 Laird grew up immersed in the vibe of the original house music scene during the late '80's, collecting records and DJing numerous warehouse and renegade parties. A classically trained pianist of a dozen years and modern day bohemian, Laird moved to San Francisco in 1990 and immediately became involved in the explosion of the West Coast rave scene, an obvious path for an English and Philosophy major. He has DJed in most clubs on the West Coast and for numerous clubs, festivals, warehouse parties and special events across the United States and throughout Europe. From Burning Man to Xingolati, Coachella to Cirque de Soleil, Laird is renowned for his dirty funky house and psychedelic breakbeat sessions.
Laird helps organize and/or is partners in several of San Francisco's many street fairs and special events, including the SuperHero Street Fair, How Weird Street Faire, and Burning Man's Precompression and Decompression, where one can find an amazing diversity of the city's and world's most interesting music and performances. He has conceptualized and helped bring to fruition several camps At Burning Man, including Boombox (2002-03), LUSH (2004), and the LightHouse Project (2016). Join the adventure!
JOEGH BULLOCK
Event Producer
Joegh Bullock has been producing events in the Bay Area for about 30 Super Light years now.
His litany of parties, concerts, theatrical productions, art exhibits, and street fairs include Off the Wall Cinema, 20×20 Gallery, Anon Salon, Sea of Dreams NYE,  Climate Theater, Burning Man Decompression Street Fair, Howeird Street Fair, anonEvents SuperHero Street Fair, and Masquerotica. He's also played creative roles in Burning Man, Harmony Festival, Earth Dance, and Wisdom 2.0.
SuperHero Street Fair and the idea of becoming your own hero with unique personal power is a favorite theme to co-create with partner Laird Archer, now in its 7th year!